Features
- Central location
- Licensed
- Private outdoor courtyard
Dining
- Hearty and wholesome in-house catering
Space
- Step free access (1 step to toilet)
If you're looking for the perfect venue for an engagement party, a private dining experience for a special birthday, or a truly memorable retirement celebration, Ginger and Pickles could be exactly what you're looking for.
With room hire in Nantwich of Ginger and Pickles, you get a truly personalised experience, whatever the occasion. Enjoy delicious meals, party platters, sit down service or buffet style, and of course, there's a fully licensed bar.
Details:
Up to 30 guests

Available 5pm to 9pm

Dining room and patio available

Book at least 48 hours in advance

Depending on the size of your party there may be a small room hire charge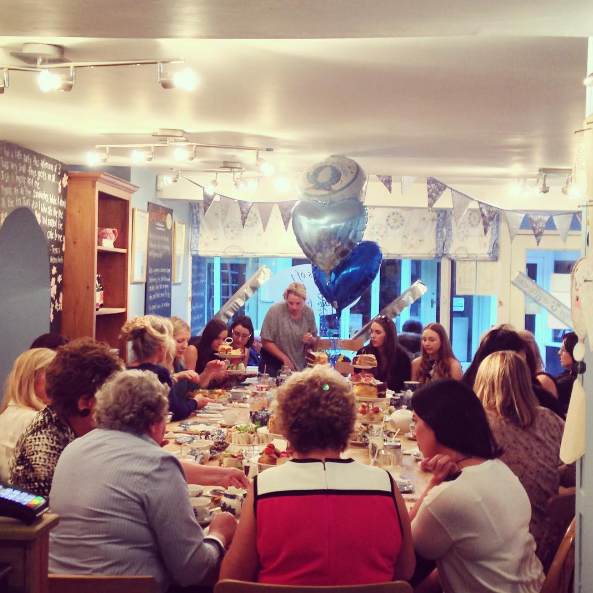 Available throughout the week
If you're looking for somewhere to have a professional (or unprofessional) meeting, special celebration, or simply a night to remember with friends, our dining room is ideal. Enjoy hot food, or make it an evening afternoon tea complete with prosecco. We can arrange the tables for the unique needs for your event and you can even incorporate your own playlists and decorations if you like!
Enjoy cake under the stars in our beautiful patio tucked in away from the road and neighbours. Delightful fairy lights create a truly romantic atmosphere and cute tables are perfect for enjoying a long summer evening. The patio opens out directly from the dining room so is a lovely addition to your indoor event.
Special occasions come in all shapes and sizes and here at Ginger and Pickles, we make it our mission to ensure you have a night to remember. Our intimate dining room has been the venue for many unique events including baby showers, birthday parties and evening a wedding reception. For each and every event, we make every detail as tailored as possible, and our friendly staff are on hand to make everything flow as smoothly as possible.
More about Ginger and Pickles
Ginger and Pickles is an award-winning, family owned and run tea room in Nantwich, Cheshire. With hearty breakfasts, magnificent cakes and delicious cooked meals, Ginger and Pickles is a firm favourite in the town and attracts visitors from all over the world.