Cheshire Caterers
Quality Catering
Ginger and Pickles is at the heart of Cheshire's appetite for scrumptious food and good times. For over 12 years now, we've been providing award winning catering for weddings, businesses, and all kinds of special occasions and organisations in Nantwich and Tarporley and around Cheshire.
We are committed to using the tastiest, quality ingredients and delivering friendly quick service. Whatever your event, whatever your menu, give us a call and we'll bring it to life. Enjoy!
Nantwich
Our Nantwich tea room is where it all began and we are delighted to supply local businesses with regular orders of yummy sandwiches and cakes. When you order catering with us you get the same top standard we showcase every day in Nantwich.
We will happily deliver catering orders in and around Nantwich or collection is available in the tea room on Mill Street.
Tarporley
In November 2017, we opened our second location in Tarporley and we're delighted to bring our catering service to the residents and businesses of Tarporley!
Our Tarporley based customers can expect the same delicious catering menu available in Nantwich and of course we're happy to deliver to the surrounding area.
Business Catering
Lunches
We believe that business lunches needn't be bland or standard. That's why we have a range of platter options that will ensure your team get the fuel they need and impress your visitors.
Upgrade your usual meeting fare for freshly made gourmet sandwiches packed with home baked ham, local cheddar and pickle, or delicious smoked salmon lemon and creme fraiche. Top it off with a selection of homemade sweet treats and impress with a luxury cheese board.
Everyone looks forward to lunch, make it memorable!
Conferences
Got a conference or big event coming up? Talk to us about your requirements and we'll happily create a tailored catering package for your business needs.
Regular orders
On our online portal you can save your orders to make repeat orders super easy. If you find yourself ordering on a regular basis, we're happy to set up weekly or monthly invoicing to make your life easier. Email info@gingerandpickles.co.uk and Harry will happily help you out.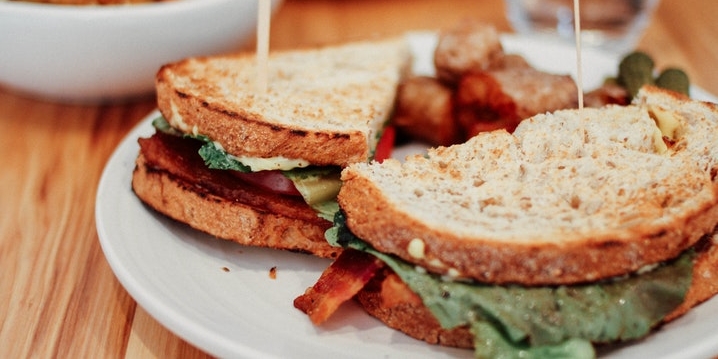 Scrumptious sandwiches are just a click away
Catering for Your Special Event
Afternoon Tea Weddings
Ginger and Pickles is famous for our mouthwatering afternoon teas and the delectable wedding afternoon tea package is our most popular catering request. Ditch the duck d'orange and give your guests a beautiful selection of hearty sandwiches and humongous cake slices.
Your wedding is your special day and we'd be delighted to sit down and discuss the details unique to you (over a slice of cake of course). Do you want an overflowing cake table or a trendy scone station? We love weddings so let's get our heads together to create the best afternoon tea wedding breakfast your friends and family have ever eaten!
Parties
Birthdays, christenings, baby showers, you bring the party, we'll bring the food! We've done all kind of parties, and have loads of options to suit different events. You can order luxury sandwich selections, afternoon tea packages, delicious quiches, and so much more from the online order section of our website.
Custom orders
Got something a bit different in mind? Call us and we'd be delighted to discuss the catering options available to you.
Nantwich: 01270 610329
Tarporley: 01829 733399
Email: info@gingerandpickles.co.uk
Additional Catering Services
Delivery
We are happy to hand deliver your catering order within ten miles of Nantwich or Tarporley. Should you require delivery in other areas of Cheshire and beyond, please give us a call and we can discuss a solution. Of course, anyone is welcome to collect their order from either of our locations.
Staff
For weddings and other large events, we can provide staff to help serve. This is organised on a per case basis and we're happy to discuss your exact requirements.
Takeaway
We're always available for takeaway orders if it's a smaller order! Scrumptious sandwiches are just a phone call away…